Recently I wrote a blog post discussing YouTube's addition of analytics. YouTube makes a lot of sense for small businesses to use as a means to engage your target audience. In addition to being a great way to market your products and services, you can use video to demonstrate your products and services in action, offer how-to instructional videos, and provide general tips and advice videos your target audience would find helpful and informative.
Even though the "old" video distribution channels are fighting it, streaming video is becoming a huge market. Just look at the success of Netflix, Amazon Video, and many other others. Google has taken notice, and they have made some changes your small business should be aware of so you can maximize your social marketing efforts on YouTube.
YouTube is focusing more on the channel layout in addition to subscriptions to channels, and the Subscription Feed is now highlighted on the home page (see image below of the home page of a new YouTube account). Users are now encouraged to subscribe to channels and videos, and Google now gives more emphasis to subscription numbers. In other words YouTube is now acting more like social networks (think Facebook Likes) so the more subscribers you have, the more relevant your channel and videos become (ie. you attract more eyeballs).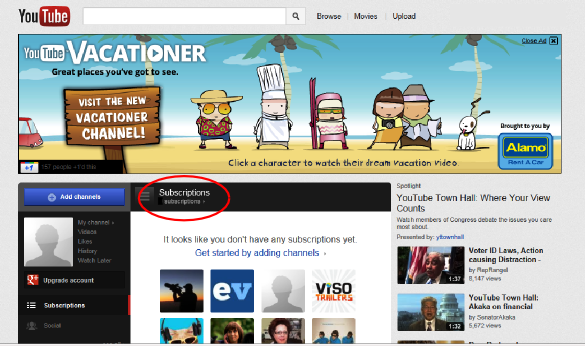 So if you have not already, sign-up and login to YouTube to create a channel for your small business. Optimize it with keywords, title, description, your brand, etc and begin to market it through your small business website and other social marketing networks. And as always if you have any questions or comments, please feel free to enter in the comments below.