I have always recommended blogging as a key part of a small business online marketing strategy.  Blogging allows you to interact with potential clients on your website, is a good way to allow visitors to promote your content, helps with your SEO strategy, and is a good way to provide timely and helpful information to your clients.  So with that introduction in mind, here are some blogging tips to help you take your small business blog to the next level.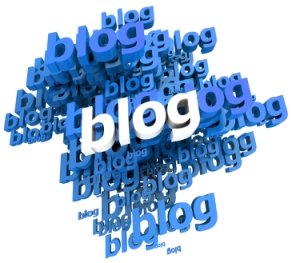 Pick a good blogging platform.  I prefer and use WordPress, but there are several good platforms out there.  See this blog post where I reviewed several blog platforms.
Do what I just did in number one.  Link to your other relevant blog posts, and consider writing a blog post series to keep readers coming back.
Be consistent.  Pick a schedule and stick to it.  I used to write daily blog posts, then as I got busier, I slowly dwindled down to a few blog posts each month.  If you have a dedicated marketing person for your small business, then a couple of posts each week will be about ideal. 
Write good content.  Easier said than done, right!  So what is "good" content???  Well it needs to be easy to read, and you need to provide something useful for your potential customers.  If you are using your blog for sales and marketing purposes only, you will probably find you have few readers.  Consider using your blog to provide tips, how-to posts, and other types of useful information.  My blog posts are probably about 95% useful information, and the other 5% is links back to the services I offer on my website.  At most I would consider 80/20 with 80% being useful information and 20% promoting your products and services. 
Do not just write for readers, but consider search engines as well.  So how do you do this?  I use a WordPress plugin call All in One SEO, but essentially you need to provide meta tags for titles and descriptions of your blog posts.  Keep your content fresh, and link within your blog posts, websites, and to other websites.
Use a call to action and encourage readers to comment about your blog post.
Provide social share buttons to allow readers of your blog to easily share the content with their social networks.  See below each of my posts for an example.
Use eye catching images to show details on what your are writing about or just to break up the content.
Consider video blogging.  Video blogging is especially helpful when you are trying to show customers a how-to.
Allow guest blog posts to provide a different and useful perspective to your readers.
Provide a search box.
Provide an RSS feed.
Provide a way for readers to subscribe to your blog via email.
Provide Categories based on the different topics you write about, and write posts to fit into your Categories.  See my sidebar for example Categories.
Use analytics to measure how readers are using your blog, what they are most interested in, inbound links, and how readers are socially sharing your content. 
Check for grammar, spelling, and punctuation.
And finally promote your blog.  Link your blog to your other social marketing networks such as Twitter, LinkedIn, Facebook, etc.  Link your blog in free directories.  Use tools like Onlywire to publish your blog post to multiple platforms at once.
Follow these tips to create a successful small business blog.  And if you have any additional tips, please feel free to list in the comments below.